How does a local bar create a movement? What happens to that bar after said movement gains a life of its own? The historic Stonewall Inn in New York City answers these questions. As a meeting place for the most marginalized members of the queer community, Stonewall was the stage for the 1969 riots where the queer community raised a collective voice against police brutality, and mistreatment. This voice sang out and spawned activist groups spanning every major US City as well as several other countries and led to the first Pride Parade in 1970. From its past as a Mafia owned establishment to its present as a privately owned, unassuming neighborhood bar, Stonewall is a living piece of LGBTQ history.
The Stonewall Inn
During the late 60's and early 70's gay life was very prescriptive. Homosexuality was classified as a mental illness and in most parts of the country it was illegal to be gay. It was common to run photos of suspected homosexuals in the paper for public shaming. There were no civil protections in place, and gays and lesbians could lose their jobs, their homes, and their families if they were forced out of the closet. This led to an uncompromising "uniform" among gay men, who were all to look like the Castro Clones (i.e. Freddy Mercury) and gay women were supposed to look like respectable housewives. Any deviation from this look would lead to life as a social pariah at best. There were no truly established gay bars, but there were private clubs like the Stonewall Inn, which was run by a mob family. Those that did attend were forced to submit bribes and deal with blackmail and extortion. Even with all of that the Stonewall was a haven. It was known as "the" gay bar in New York City.
Private clubs were subject to frequent police raids. Typically, the clubs were bribing the police to get a warning prior to the raid, so that they could minimize the impact on their business. This was not the case in the fateful raid of Stonewall on June 28, 1969. The club had no warning, and was invaded by a cadre of police officers, who attempted to corral the patrons. The men were lined up and required to present identification. Anyone dressed like a woman was taken to a restroom by a female officer and forced to prove their biological sex. This raid drew a crowd outside from other residents of Greenwich Village and took a few errant turns from the normal raid. Protests erupted. Violence ensued. The gays and the drag queens fought back against the police and the riots continued for the next few days.
Photo by Peter Hujar
A year after this riot there was a commemorative march which became the first Pride Parade. It started as people remembering what their fellow community members stood up for. It evolved into a rally cry across the country for queer activists to take to the streets. Within a few years, every major city in the United States had their own Pride Parade, many of which (Chicago, San Francisco, Seattle, and New York City to name a few) are scheduled for the last weekend in June to commemorate the evening at Stonewall. Since then Pride has shifted to meet the demands of the community at any given time, from the AIDS Crisis to Marriage Equality and many other issues in between. It still hearkens back to a time when the patrons at a local club stood up and refused to be marginalized.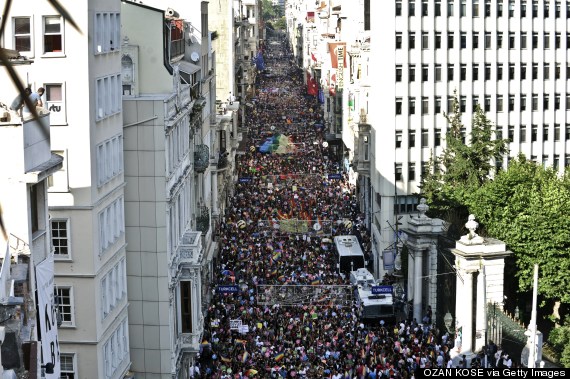 NYC Pride Parade
After the riots, The Stonewall Inn was forced to close. Since then the physical establishment has changed many times. The bar was sold, and the property was broken into parcels. What was once the main bar of the Stonewall Inn, became several iterations of different eating establishments and is currently a nail salon. Private owners bought half of the property and reopened Stonewall in the 1990's and returned to its namesake of The Stonewall Inn in 2007. According to Peggy, one of the bartenders there, the owners are planning on eventually buying out the nail salon next door and returning the Stonewall Inn to its former size.
Interior of Stonewall
At a glance, there is nothing particularly spectacular about the interior of the bar. The wood used in the décor is warm and inviting, but not particularly pristine or stylish. On the main level there is a pool table, a tiny stage and a few bar tables. There are some commemorative t-shirts posted above the bar that are for sale. Upstairs is a larger stage and a second bar that is used for various shows. When you look a little deeper the history and uniqueness start to surface. On the main floor a "Urinal Room" and "Private Stall" serve as the restrooms for patrons. There are newspaper clippings from the times of the riots posted on the walls. There are original signs of "This is a Raided Premises" from the NYPD visible. There is a recounting of the historic evening by one of the patrons who lived through that fateful raid. Peggy mentioned that he is in his 70's and still comes into the bar every now and again to grab a beer.
The history of the Stonewall Inn calls to people who have studied the queer civil rights movement. Jason, a dear gay friend of mine with a degree in History, heard that call. When he visited me from Seattle, one of his definite to do list items was to see Stonewall. He was shocked by the fact that a place so steeped in historical significance maintained such a low-key atmosphere. It was early afternoon on a Tuesday when Jason and I had the opportunity to chat with the bartender, Peggy. He asked her what it was like to work in such a monumental place. Her response was that most days it was just like working any other job. Occasionally she would encounter people that lauded over the historical significance. Those occasions served as a reminder to her of the weight of the venue. We talked to her about the various events, marches and rallies that still start there, all the while enjoying two for one happy hour cocktails. There was a visitor from Sevilla, Spain who had a friend translate "Thank you Stonewall for paving the way" into English so that he could say that to the bartender. A couple of early twenties came in and played a few games of pool. We observed an after-work crowd come in wearing shirts and ties. We witnessed people taking photos of the sign out front and venturing in to read a few of the newspaper clippings on the wall, and then turn around and leave. They saw the monumental location and that completed their visit. We delighted in seeing gay men beside lesbians (which is surprisingly uncommon in most queer bars) and their heterosexual friends all coming together in a communal establishment. Most of these interactions are nothing even remotely out of the ordinary in a neighborhood gay bar even though this is a place of utter historic significance for the patrons within.
As I am writing this, I am sitting at the bar in the Stonewall Inn. I feel the weight of history within these walls. At the same time, I feel the comfort and camaraderie of the neighborhood vibe of this bar. If these walls could talk, what stories they would have! Stories of a historical uprising would be balanced with stories of first dates. Stories of drunken Monday nights playing Drag Bingo would be paired with stories of after work happy hours. Stories from bartenders who have had bland days would be matched with stories of visitors in tears at the monumental nature of the birthplace of Pride. The Stonewall Inn is living history juxtaposed with mundane neighborhood appeal. Come in for history and stay for a two for one happy hour drink with friends you've yet to meet.